The Text Trix™ editor is an open-source, cross-platform text editor with a mind for user-friendly file and text navigation.
Text Trix started out as a homegrown project and continues to focus on simplifying the process of reading and navigating through many files and tons of text. Whether you use it for general file reading or programming, we hope you'll find it useful. And as an open-source program, feel free also to extend/improve it through bug reports, patches, or plugins!
We are in the process of migrating the source code to a new repository on GitHub. Please check it out!
---
Reviews
Ranked among "The 50 Best Java Tools" on Download.CHIP.eu.
Described as a mix of Word and Firefox: "Word, so schnell und komfortabel wie Firefox" (Word, as fast as and comfortably as Firefox) by CHIP.de.
Reviewed on AddictiveTips, which described it as "an advanced editor" with "advanced options and features...useful for professional users."
Considered "a great text editor designed for programmers" by WinPortal.
---
Get to Know Text Trix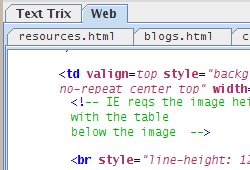 New for Text Trix 0.9.0: View and edit source code with syntax highlighting. Wrap-indent ensures that you'll never have to scroll horizontally again!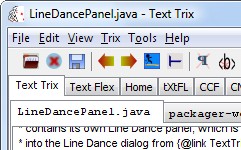 Open multiple files in tabs, and collect similar files into tab groups. Flip between many files with tab history buttons or shortcuts.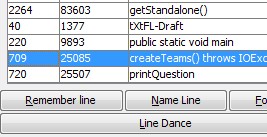 Dance among multiple lines with Line Dance. Lines (and text) can be saved and returned to with a click.
---
The Downlo

Download Text Trix (v.1.0.2 as of June 7, 2017.
Source code, standalone package, and alternative builds
New repository on GitHub. Plugins not yet ported, so you'll need to grab "lib" and "plugins" folders from the most recent release.
Runs on Java™ software. For more details, see "Which Java version do I need?"
---
Experimental Builds
We just finished integrating a completely different syntax highlighter in Text Trix 1.0, with support for many more languages.
Look out for new updates in our pre-releases!
---
Frequently Asked Questions
Which Java version do I need? Text Trix works on Java 6 and up. If your computer does not have Java software, learn how to install it (free).
If your system requires Java 1.4/1.5, you can still use Text Trix <= 0.9.4.
How do I install it? Text Trix comes packaged in a Jar Ajar installer. No registry entries are altered. Jar Ajar will launch Text Trix and show you where to run it in the future.
Having trouble finding your installed files on Vista? See here.
Prefer a completely portable build? We've provided the .zip packages for just that purpose.
How can I write my own plug-in? See the plugin writing guide for how to write and package your own Text Trix plug-in.
What can I do if it feels sluggish? Text Trix 0.9.0+ has a syntax highlighter that may feel sluggish on older systems. You can turn off syntax highlighting under Edit > Preferences... , or run java -jar TextTrix.jar --nohigh for faster responsiveness. UPDATE: Text Trix 1.0 has a new syntax highlighter with significantly better performance.
Note that a new syntax highlighter (jsyntaxpane) with more modern features and greatly improved performance is in the works.