tXtFL on Android!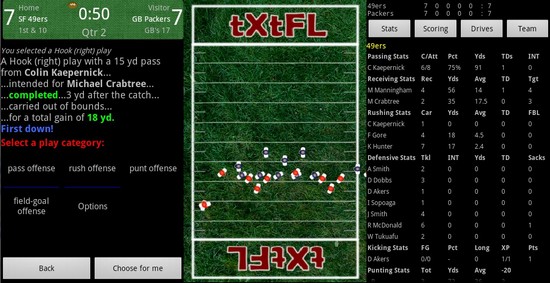 Animations
For the first time ever, tXtFL has play animations! Watch your players reach out for the grab as the ball sails into the endzone.
Gamecast-style
The landscape layout puts all controls, animations, and box scores at your fingertips.
Track Stats and Customize Your Team
Design your own team and customize players on the fly in tXtFL Mobile. You can adjust your own coaching weights based on whether you run a West Coast offense, prefer the run, or make defense your priority.
Download
Available on the Google Play Store. Every time we post fresh player stats, new teams, or game model tweaks, you'll get them with all other updates. Best of all, tXtFL Mobile is completely FREE!
BlackBerry App World: Also available on your BlackBerry PlayBook device.
And as always, please let us know your feedback on how we can make tXtFL Mobile better!